HI ALL THIS HAT WAS SO MUCH FUN TO MAKE .I LOVE PURPLE COLOUR SO MUCH THAT I JUST NEEDED TO MAKE THIS HAT . THE VIDEO IS ON MY YOUTUBE CHANNEL .I USED A CLEVER IDEA WITH A LITTLE BUTTON INSIDE THE HAT SO YOU CAN ATTACH THE POM- POM OR TAKE IT OFF OR SIMPLY JUST CHANGE IT FOR A DIFFERENT COLOUR.SO MUCH SUN .YOU WILL ENJOY IST VERY MUCH . THIS PATTERN WORKS REALLY FAST TOO AND DOESN'T EAT MUCH YARN AT ALL. I ONLY USED 100G OF PAINTBOX SIMPLY ARAN .
ALL MY PATTERNS ARE WRITTEN IN US TERMINOLOGY
MATERIAL:
ARAN YARN( I USED SIMPLY ARAN YARN)
5 MM HOOK
POM-POM WITH AN ELASTIC LOOP
START WITH SLIP KNOT, CH 38
FOR THINNER YARN YOU MAY NEED MORE , OR FOR THICKER YARN LESS CH.MAKE SURE YOU HAVE 28CM OR 11 INCH
SLOUCHY STYLE ADD 5 - 6 MORE CM
R1:
WORK INTO 2ND CH FROM HOOK, WORK HDC SLIP STITCH IN EVERY CH ACROSS. CH 1 AND TURN YOUR WORK
R2:
WORK HDC SLIP STITCH IN BACK LOOPS ONLY, IN EVERY STITCH ACROSS.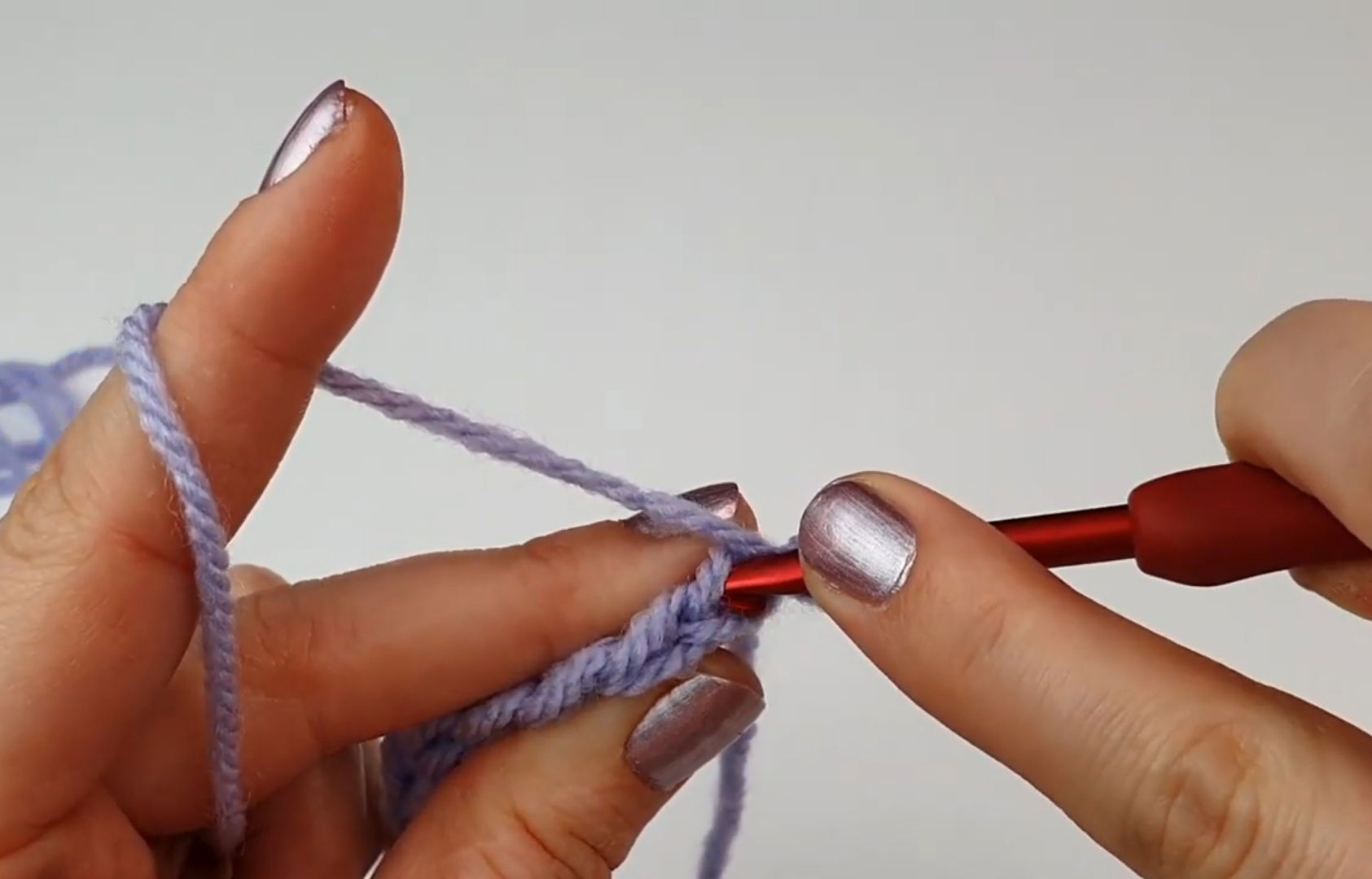 R3:
REPEAT ROW 2 (HDC SLIP STITCH BACK LOOP ONLY) CH 1 AND TURN YOUR WORK
R4:
YOU WILL HAVE 2 SETS OF (V'S) ONE SET ON TOP AND ONE SET FACING YOU .WORK INTO THE FRONT FACING STITCHES ( V'S) UNDER THE BUTTOM HORIZONTAL LOOP AND DO HDC SLIP STITCH ACROSS. INTO THE LAST STITCH WORK INTO THE FULL STITCH ON TOP( TOP V'S). EVERY TIME YOU WILL WORK LIKE THIS ROW 4 YOU WILL DO LAST STITCH ON TOP .( FULL STITCH ) HDC SLIP STITCH. CH 1 AND TURN YOUR WORK.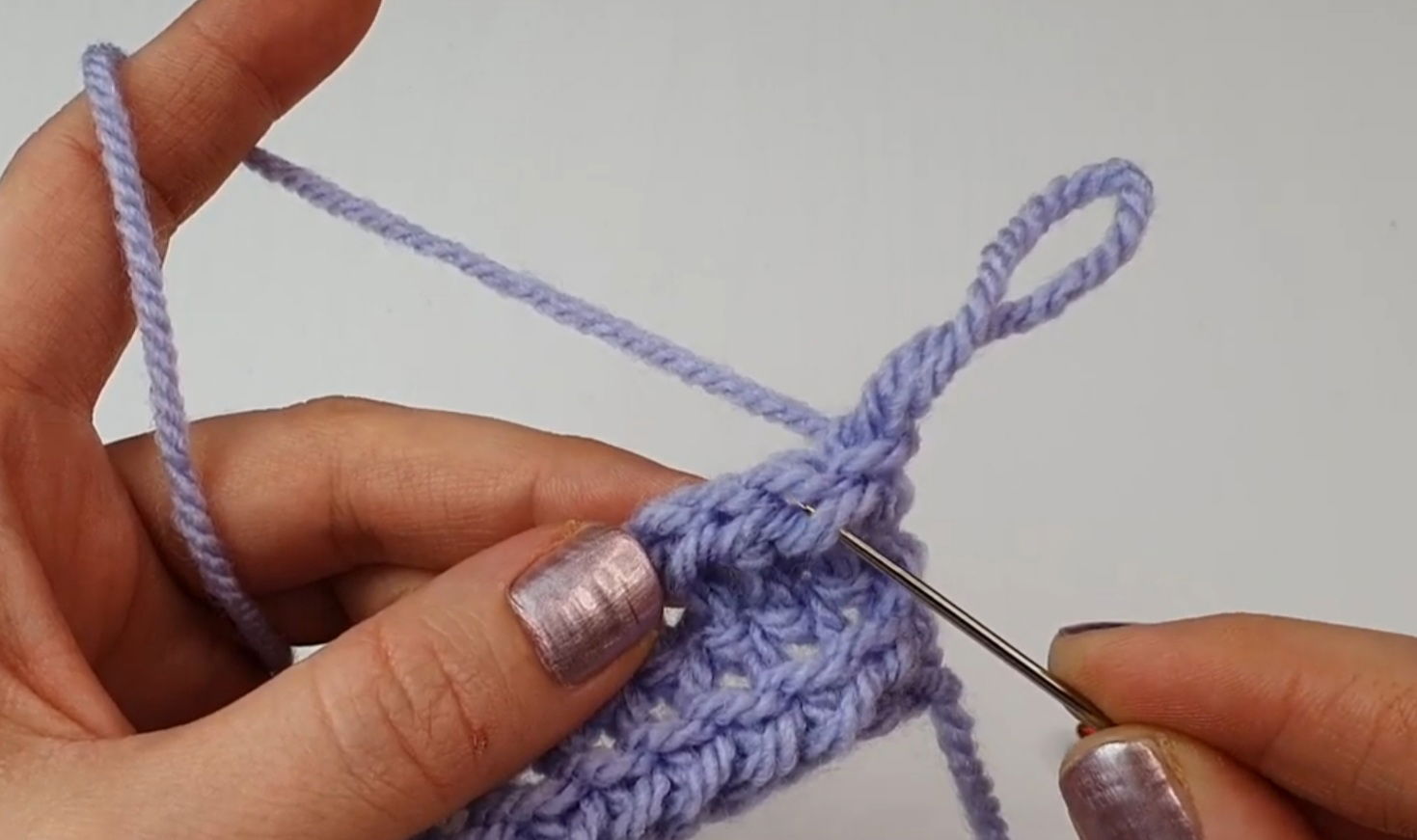 R5:
REPEAT ROW 4 EXACTLY THE SAME WAY.
R6- R7:
REPEAT 2 ROWS HDC SLIP STITCH BACK LOOP ONLY
R8-R9:
REPEAT 2 ROWS FRONT FACING( V'S ) HORIZONTAL BUTTOM LOOPS HDC SLIP STITCH
WORK AS MANY ROWS AS YOU NEED TO WRAP IT AROUND YOUR HEAD . 42 CM OR 17 INCH.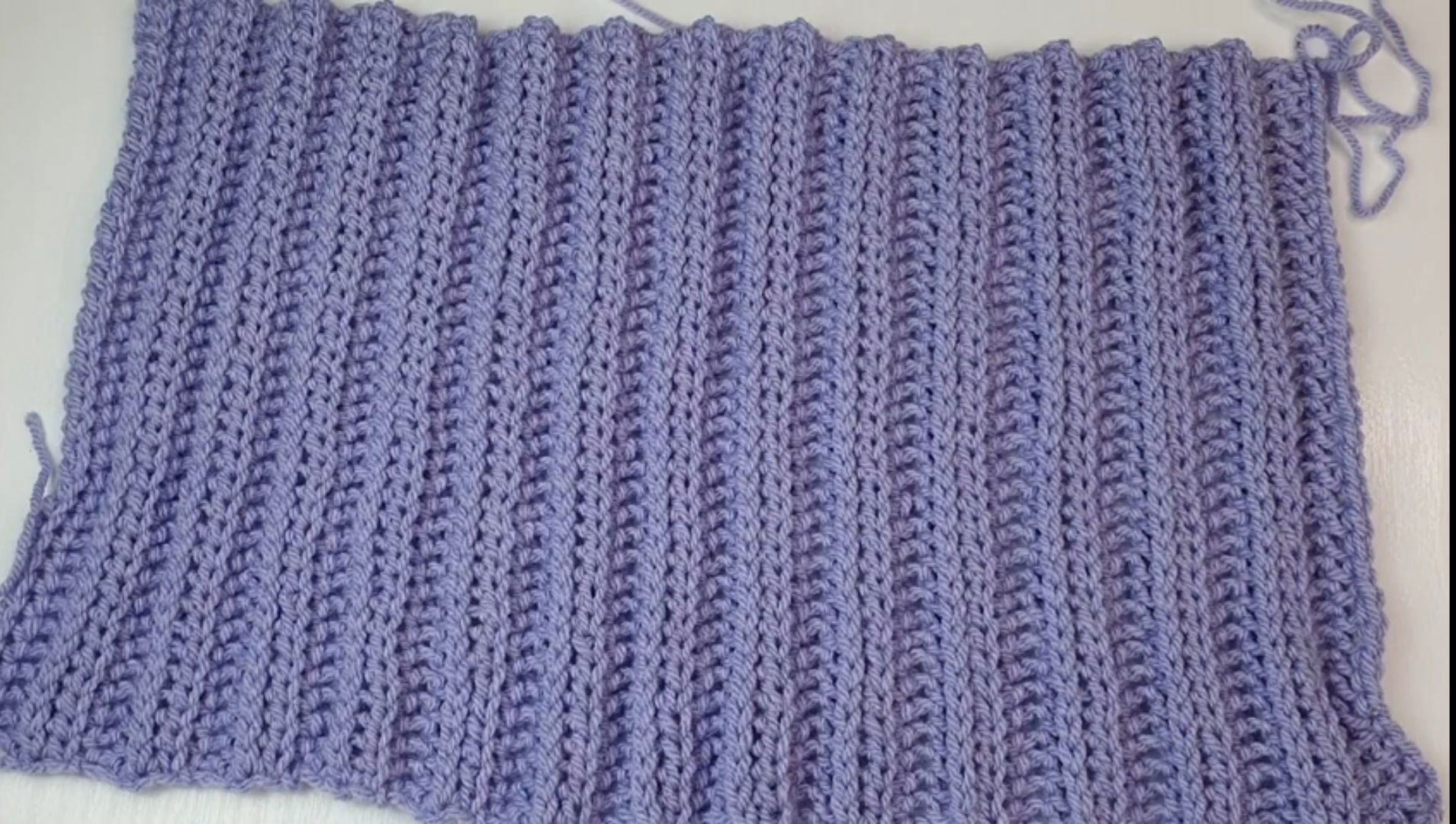 FOLD IT IN HALF. THE SIDE CLOSER TO YOU HAVE A LOOP IN THE CONER INSERT THE HOOK ON THE CONER ON THE OPPOSITE SIDE AND BRING THE LOOP IN CH 1 . READY TO SEW ON THE SIDES .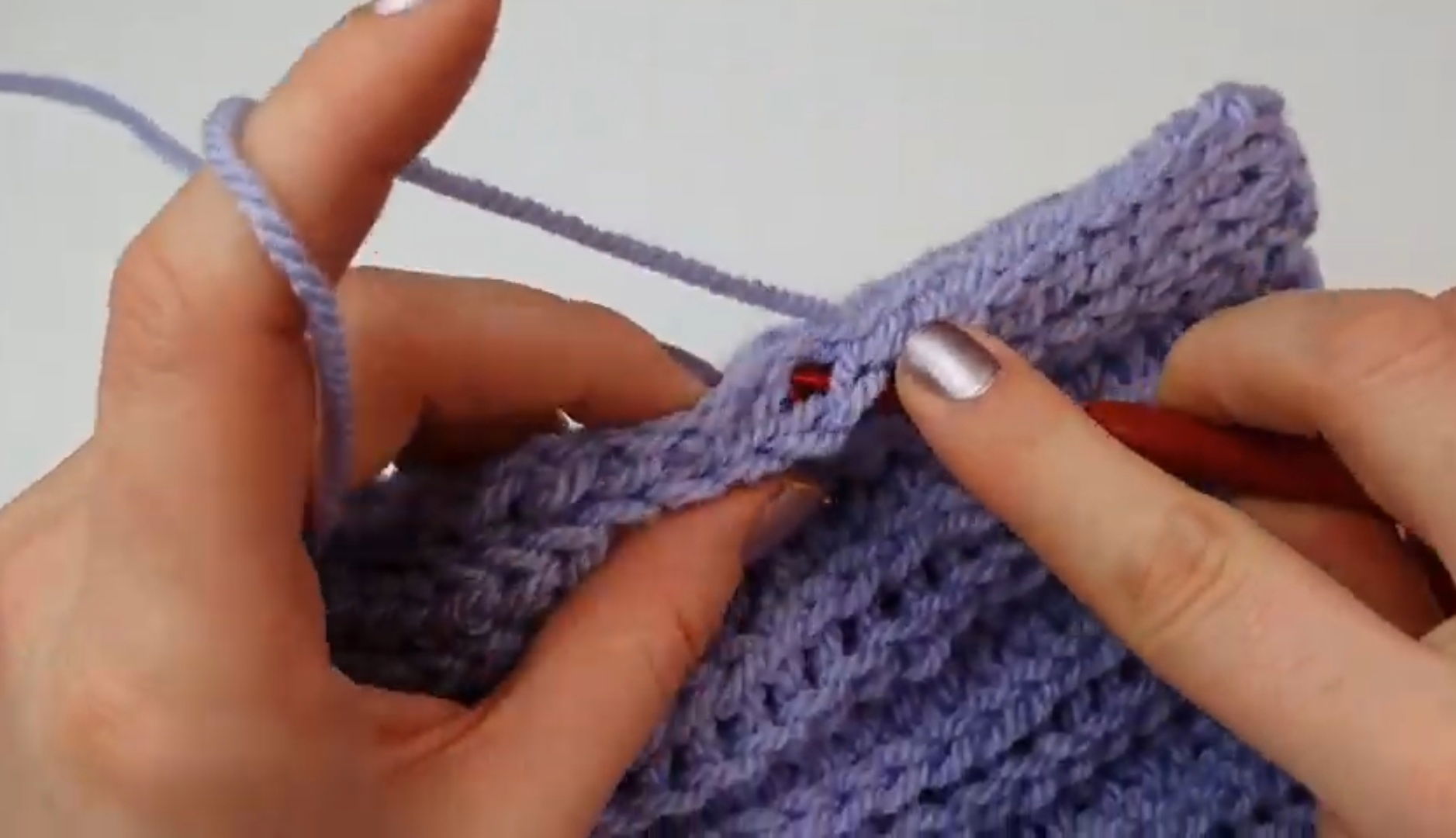 SEW THE SIDES:
ON THE SIDE CLOSER TO YOU INSERT HOOK UNDER THE FULL STITCH ( FRONT AND BACK LOOP) AND ON THE OPPOSITE SIDE AWAY FROM YOU AND DO A SLIP STITCH WORK YOUR WAY DOWN LIKE THIS AND FASTEN OFF WITH A LONG YARN END ABOUT 50 CM, SO WE CAN SEW THE TOP OF THE HAT. PREPARE YOUR YARN NEEDLE .
SEW THE TOP OF THE HAT:
CREATE THE LARGE STITCHES CLOSE TO THE EDGE ,ON TOP OF YOUR HAT AND GO AROUND.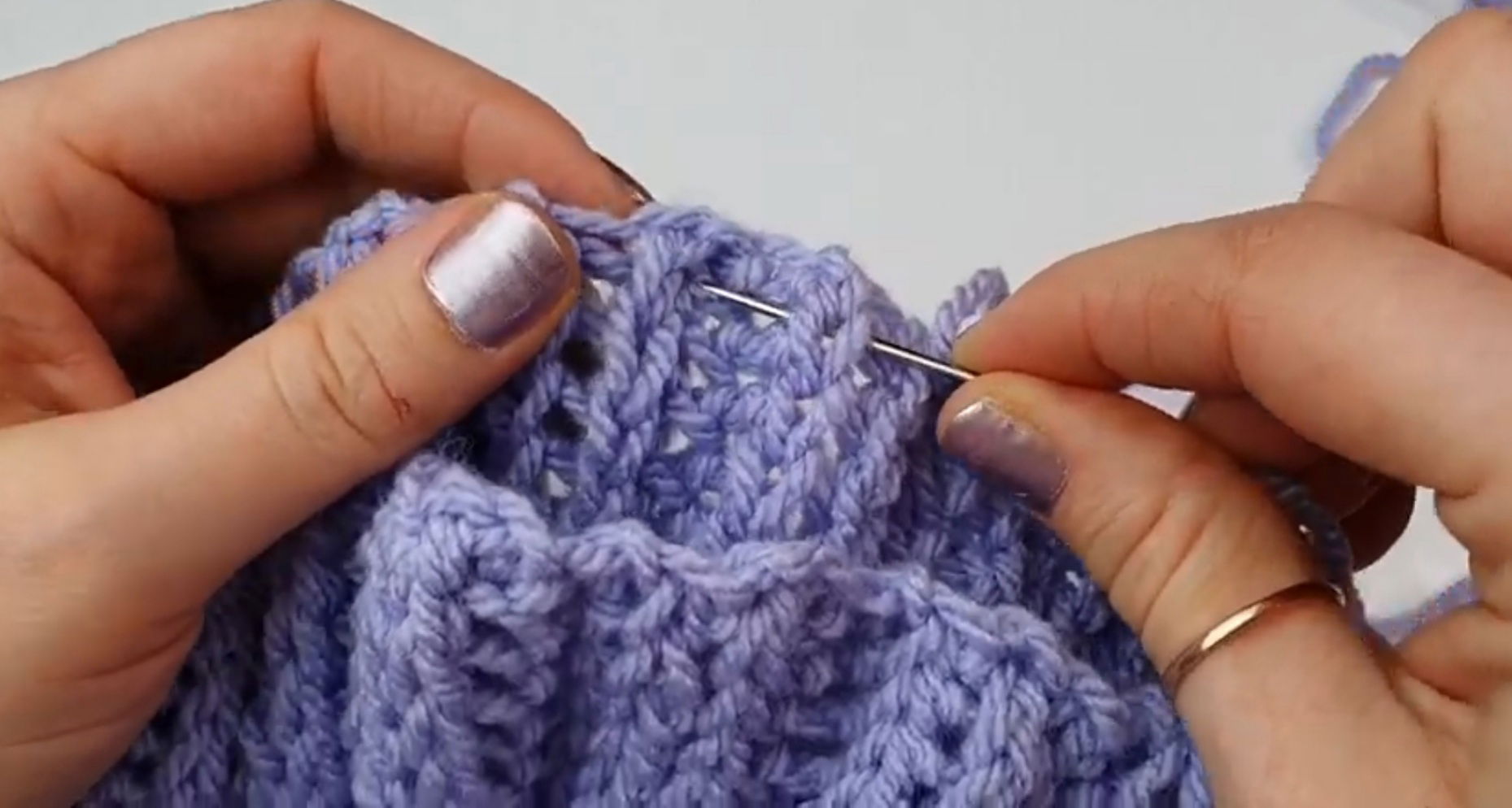 GATHER THE THE HAT AND PULL THE YARN TO CLOSE THE HAT.SEW THE GAP .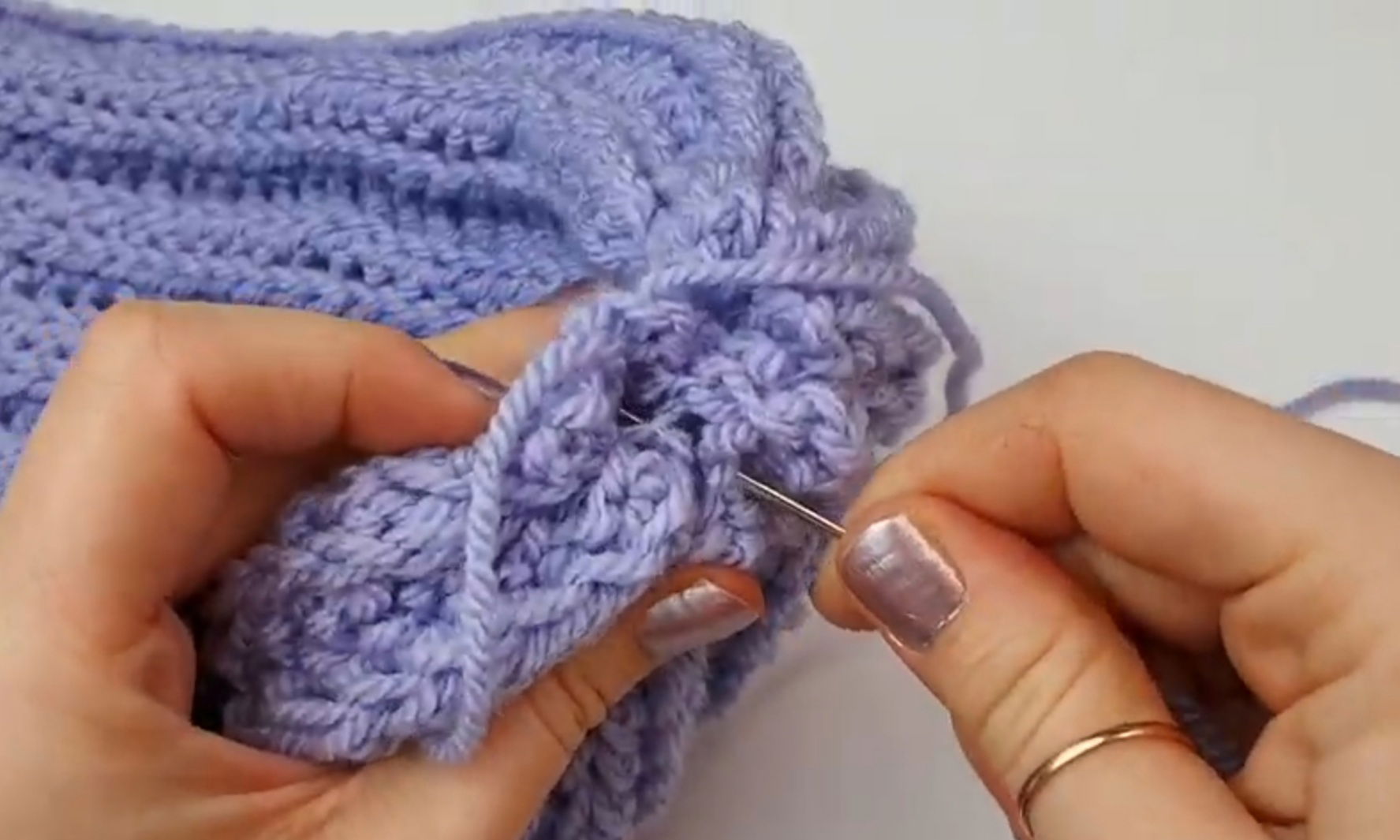 DON'T CUT THE YARN OFF AND SEW THE BUTTON IN THE MIDDLE.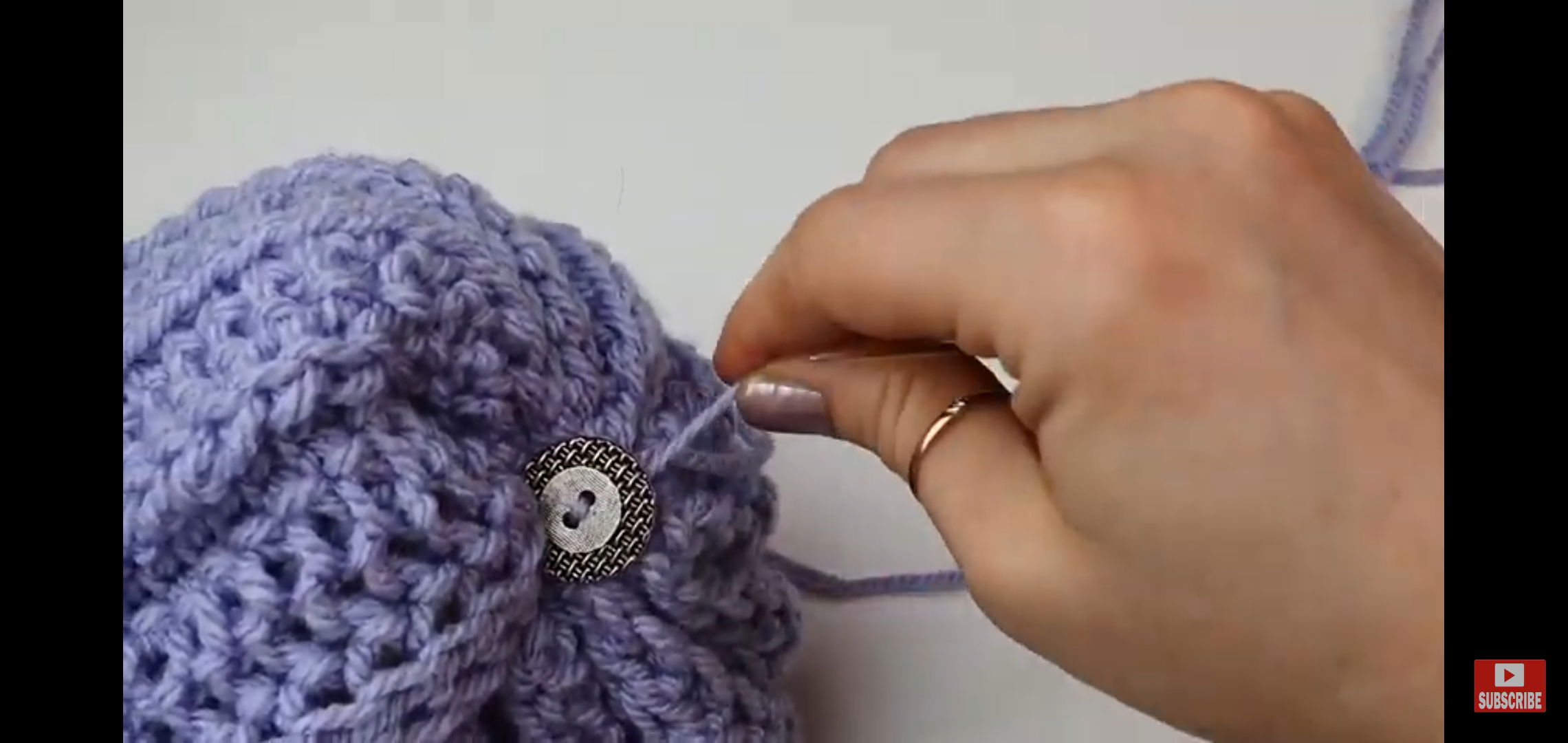 THEN YOU CAN TURN YOUR HAT RIGHT SIDE OUT. AND INSERT YOUR HOOK FROM THE INSIDE OF YOUR HAT AND PLACE YOUR POM - POM FROM OUTSIDE AND HOOK THE LOOP , PULL THE LOOP INSIDE THE HAT, HOOK THE LOOP ON YOUR BUTTON.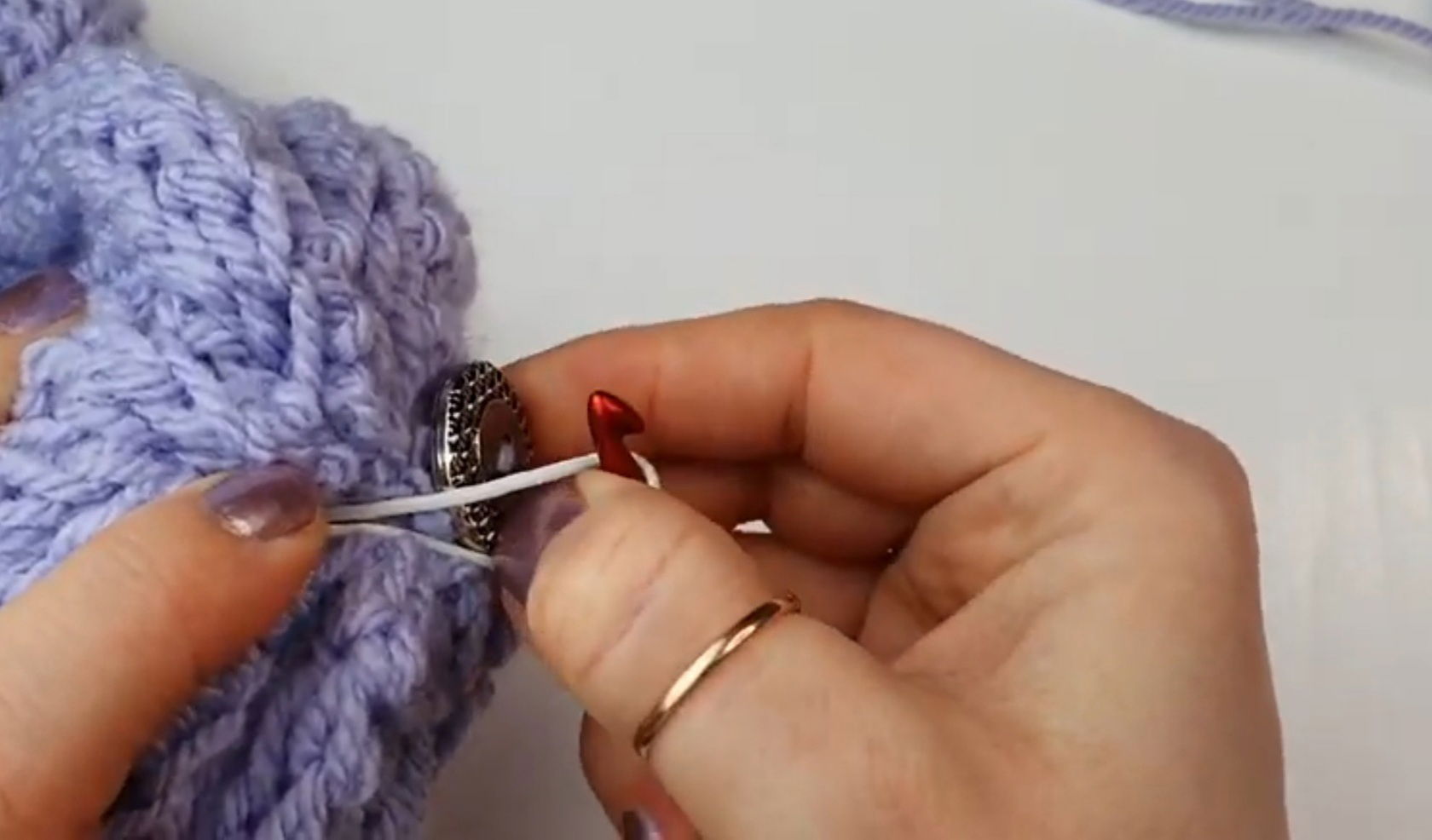 CLEVER WAY TO REPLACE THE POM - POM FOR A DIFFERENT COLOUR IN THE FUTURE . DON'T FORGET TO HIDE ALL YOUR ENDS ENJOY X