SUNBURST GRANNY SQUARE IS MY FAVOURITE PATTERN. CAN BE USED FOR MANY DIFFERENT PROJECTS . SUPER SIMPLE, EASY AND BEAUTIFUL. I HAVE DONE A CARDIGAN ON MY CHANNEL WITH THIS SUNBURST SQUARE AND IT LOOKS AMAZING . HAVE A LOOK .YOU CAN CHANGE THE COLOURS AND MAKE IT YOUR OWN. SIMPLE PATTERN AND PERFECT FOR THE BEGINNERS.
ALL MY PATTERNS ARE WRITTEN IN US TERMINOLOGY
BLACK AND WHITE PAINT BOX CHUNKY YARN, BUT YOU CAN USE 4 DIFFERENT COLOURS. I WILL USE A,B,C,D FOR EACH ROUND.
5 MM HOOK
START WITH SLIP KNOT CH 4 AND JOIN INTO 1ST CH TO MAKE A RING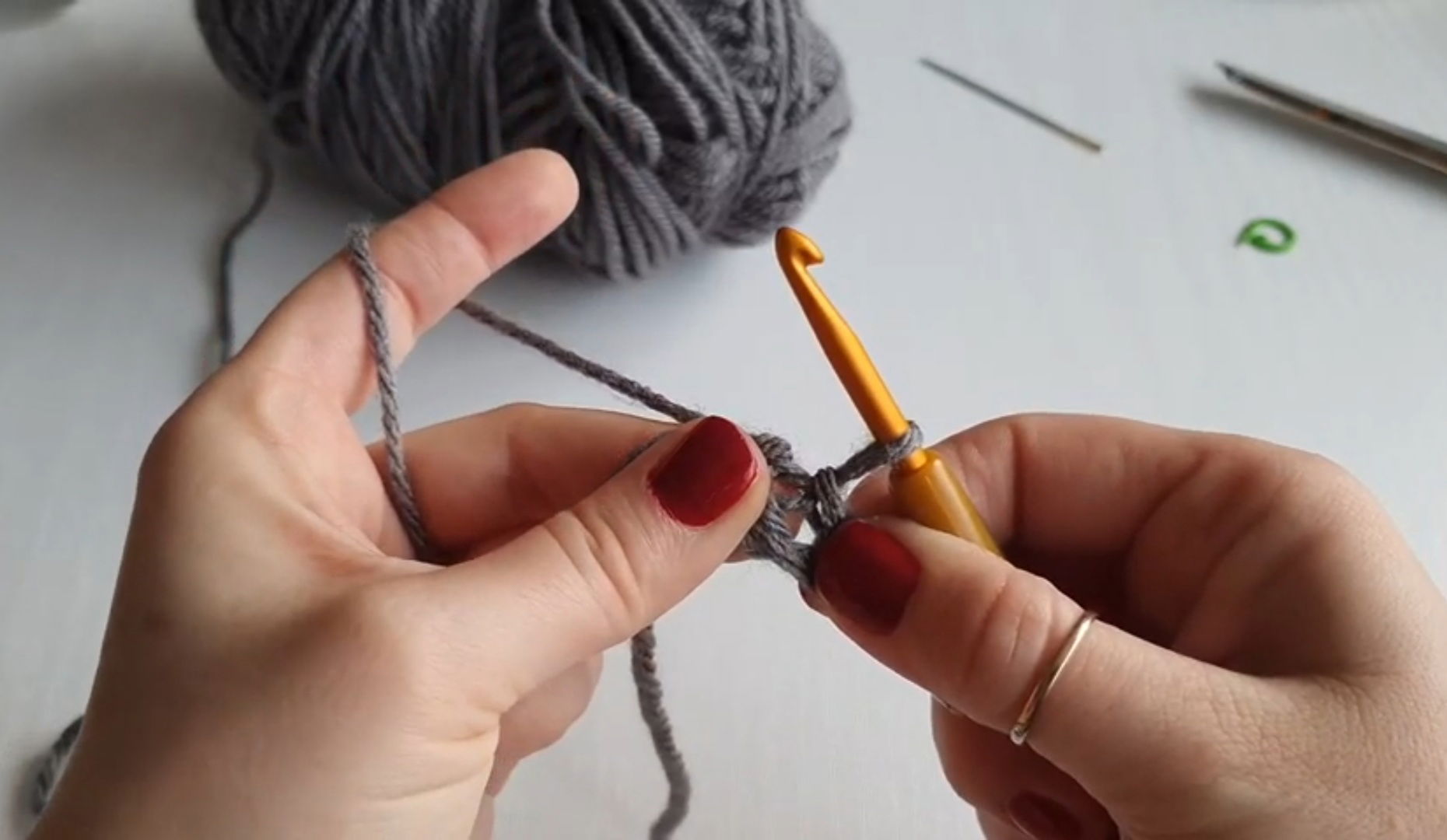 R1:
CH3 ( COUNTS AS YOUR FIRST DC) AND DO 15 MORE DC IN THE RING ( 16DC TOGETHER) JOIN WITH SL.ST ON TOP THE CH 3.
R2:
ATTACH COLOUR B WITH A KNOT.CH 3
WE WILL WORK THE PUFF STITCHES.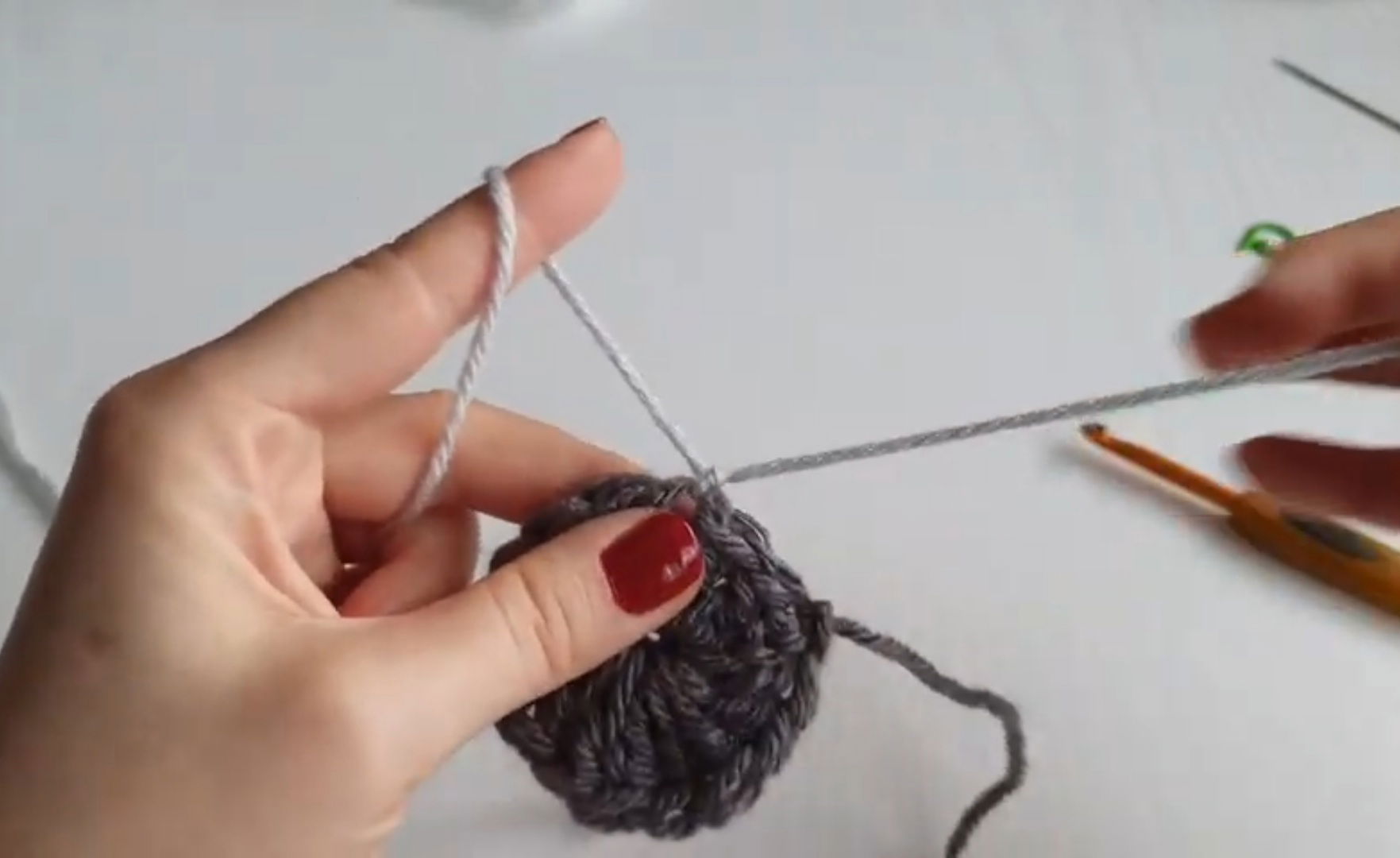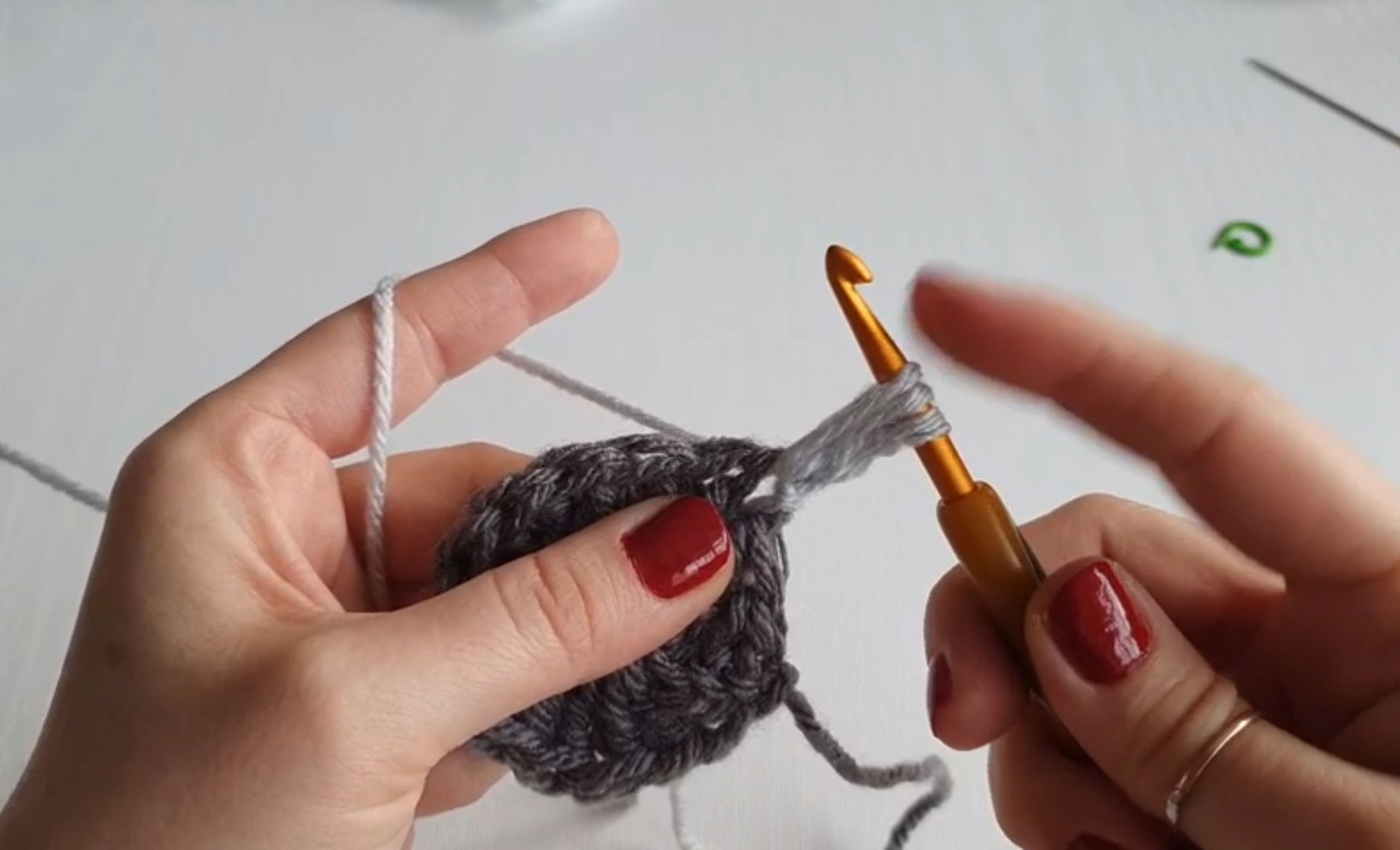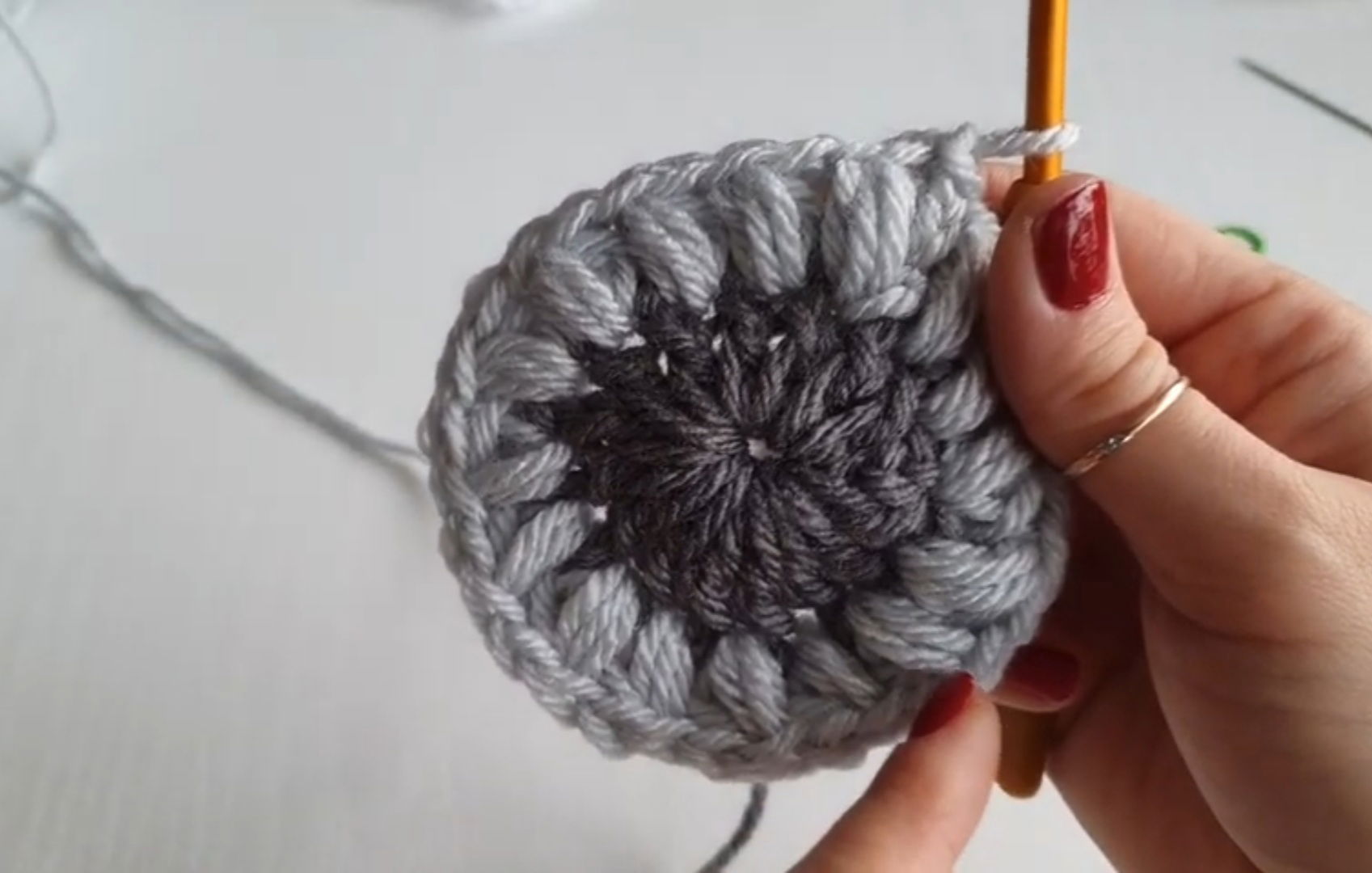 YARN OVER AND INTO THE SAME STITCH PULL UP A LOOP TO THE HEIGH OF DC 3 LOOPS ON THE HOOK, YARN OVER AND PULL UP ANOTHER LOOP ,5 LOOPS ON YOUR HOOK, AND YARN OVER PULL UP ANOTHER LOOP AND NOW YOU HAVE 7 LOOPS ON THE HOOK.YARN OVER AND PULL THROUGH ALL THE LOOPS YOU HAD ON YOUR HOOK. CH1 TO SECURE. AND THIS IS YOUR FIRST PUFF STITCH REPEAT AROUND AND YOU NEED TO END WITH 16 PUFF STITCHES.SL.ST OT TOP OF THE SIRST PUF STITCH. FASTEN OFF.
R3 :
BRING COLOUR C.ATTACH WITH A KNOT( IN THE SPACE BETWEEN THE PUFF STITCHES)
WE WILL WORK BUBBLE STITCH IN THIS ROUND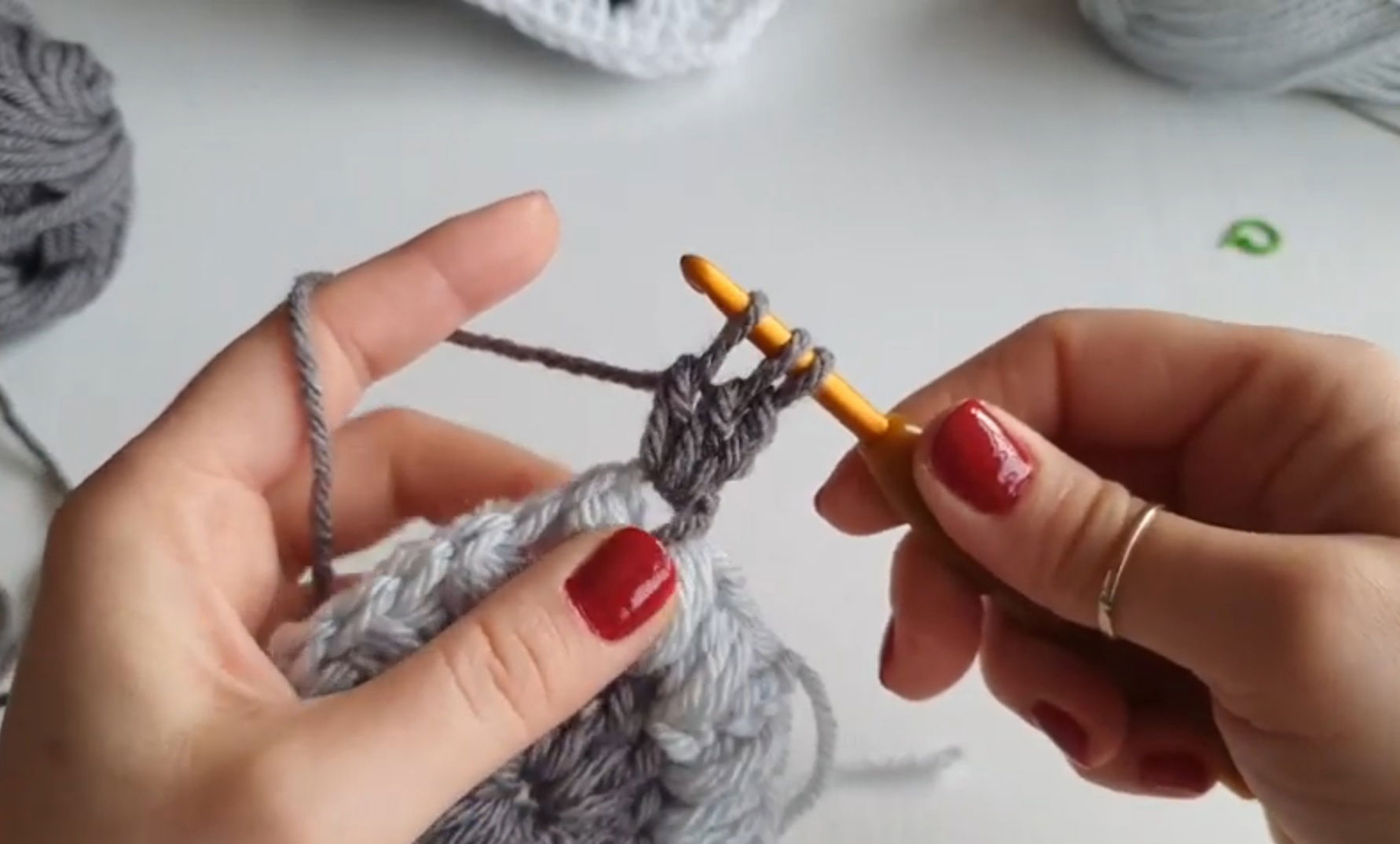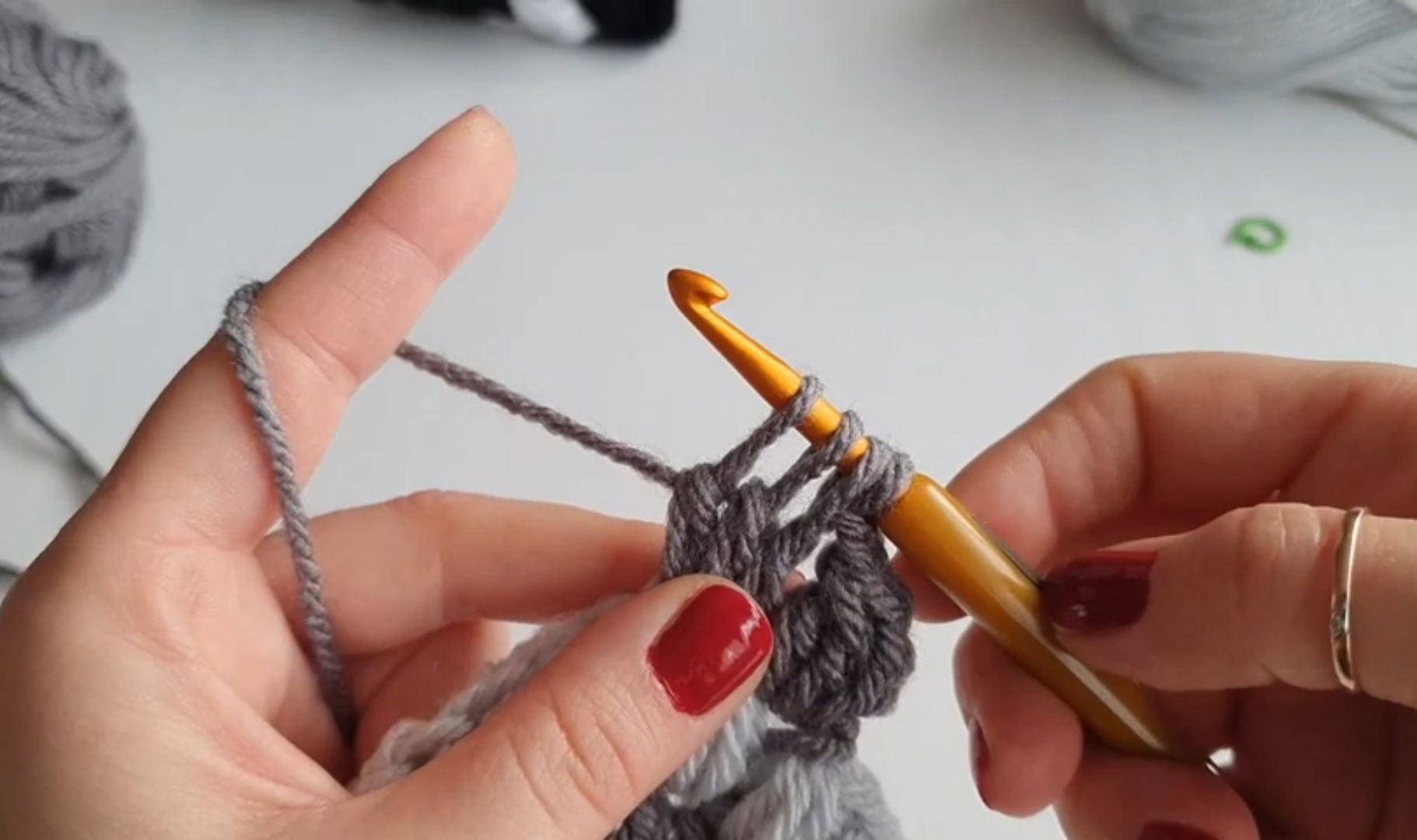 CH 3 ( WE WILL WORK 3X UNFINISHED DC) YARN OVER, INSERT HOOK IN THE SPACE BETWEEN THE 2 PUFF STITCHES ,YARN OVER PULL UP THE LOOP 3 LOOP ON HOOK , YARN OVER , INSERT AND PULL THROUGH FIRST 2 LOOPS( LEAVE 2 LOOPS ON HOOK) YO, PULL UP THE LOOP AND PULL THROUGH FIRST 2 LOOPS ( 3 LOOPS ON THE HOOK) YO , PULL THROUGH ALL 3 LOOPS AND CH 2 ....(MAKE 4 OR 5 UNFINISHED DC FOR THINNER YARN ).WORK LIKE THIS IN ALL SPACES BETWEEN THE PUFFS ( 16 BUBBLE STITCHES. SL.ST TO THE TOP OF THE FIRST AND FASTEN OFF.
R4:
JOIN COLOUR D WITH A KNOT IN ANY SPACE.
CH 4 ( COUNTS AS FIRST TRC)
2 TRC IN THE SAME SPACE, * NEXT SPACE WORK 3 DC,NEXT SPACE 3 HDC, NEXT SPACE, NEXT SPACE 3 DC, NEXT SPACE WE WILL WORK CONER( TR 3 ,CH3,TR3 ) REPEAT LIKE THIS ON EVERY SIDE OF THE SQUARE. AND FINISH THE LAST CONER WHERE WE ALREADY HAVE TR 3 SO, WE WILL WORK INTO THE SAME PLACE WHERE IS OUR FIRST 3 TR . WORK 3 TR AND CH 3 AND SL.ST ON TOP OF THE FIRST TR. AND CH1 , FASTEN OFF AND HIDE ALL YOUR ENDS WITH THE YARN NEEDLE.